IPPBX Solution
Kingasterisk IPPBX manages your business in a more focused way. You & your world get connected.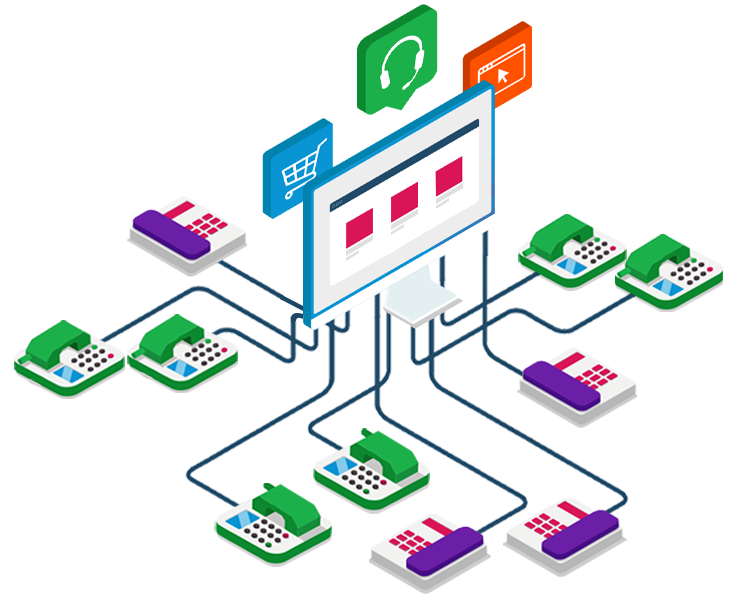 Kingasterisk's IP PBX is an Open Source based Unified communication solution with packed High end features which enables your business to be future ready, flexible, innovative and competitive. An IP PBX is a telecommunication device that provides voice connectivity to desk phones within a building. It oversees the outgoing and incoming calls across its telephone network using an internet connection.
Features

Reporting and analytics
Most IP PBX systems now come with basic reporting features built-in, and some might offer more advanced reporting and analytics.

Multi Party Conference
One of the best ways to cut down on travel costs is teleconferencing. Make sure your phone system has native support for true multi-party conferences.

Voice Messaging
Once a 'nice to have' or an optional add-on, voicemail features come as standard with your IP phone system.

Hold Music
Music played to callers while they are putting on hold. You can upload file with music to Kingasterisk IPPBX and set the on-hold music for your business.

Call Forwarding
Allow an incoming call to a called party, which would be otherwise unavailable, to be redirected to a mobile telephone or other telephone number where the desired called party is situated.

Call Recording
Kingasterisk IPPBX supports call recording feature to record every phone conversation and store call recording files in external storage.
Benefits
Lower Communication Costs


Lower Communication Costs


Easier to Install & Configure


Easier to Install & Configure






Frequently Asked Questions
IP PBX phone systems place and receive phone calls over the internet. It does so by converting analog voice signals into digital. From there, it directs calls to a VoIP service provider to manage the initiation and termination of every call.

At the core, IP-based voice service uses Session Initiation Protocol (SIP). This universal protocol has become the standard for VoIP phone systems. For a PBX, use SIP trunking, which offers multiple voice channels.
Used of IPPBX in this cases,
You're looking for a more manageable, easy-to-use system
It would be best if you had a solution that's quick and easy to install
You want to save money on communications
You want to reduce phone wiring around the office
You want to lay the foundations to scale
You want to improve the customer journey
You want to consolidate your communications channels
You want to allow better mobility
There are two lines are used in PBX system: PRI and SIP Trunk
We provide IPPBX solution,
Expert qualified team
Competitive pricing
Focused on client satisfaction
Reliable solution
Dedicated technical live support