SuiteCRM Integration
Connect Kingasterisk's CRM with your system to increase rep productivity and personalise customer conversations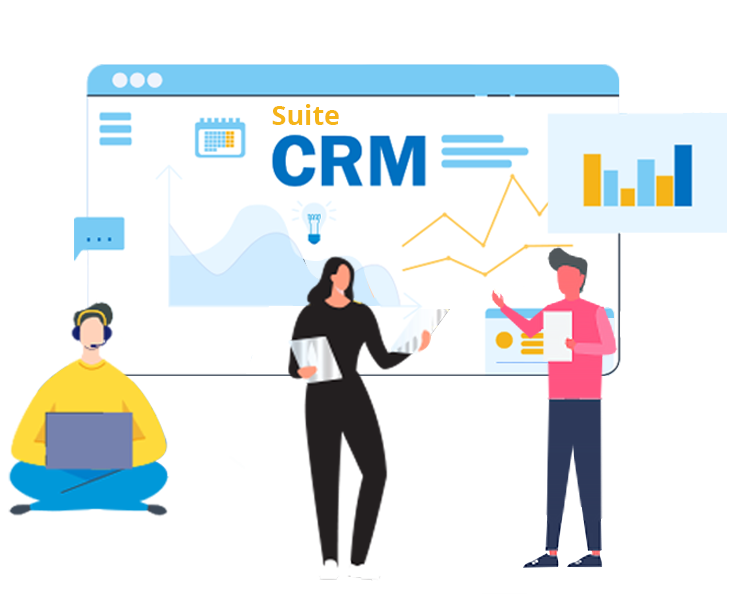 Kingasterisk's SuiteCRM Integration can generate an outbound call, it just by clicking on the lead record. We also can configure click to call functionality within the SuiteCRM as part of our VICIDial SuiteCRM Integration. CRM also enables users to not only work with data but also take action across departments and functions within an organization so all teams can work together to improve the customer experience. A CRM system reaches its full potential when it's connected with other software.
Features

Customer History
Agents can keep data of customers when ther are call to the customers by integrated suitecrm with software.

Call Forwarding
Agents can forward call to the another number with suitecrm integration.

Call Hold & Retrieve
Agents can keep the call on hold if required by enabling the call hold or retrieve function.

Dial Pad
We provide dialpad with suitecrm integration and agents can calling also by dialpad.

Automated Lead Management
Can manage leads automatically with suitecrm integration and improve more lead generate.

Disposition Status
Can be Known the call disposition status by integrated suitecrm with software.
Call mute / un-mute
Agents can mute and un-mute to the call by enabling mute & un-mute function in suitecrm integration.

Analytics & Reporting
Make better decisions & track performance by analyzing daily call reports. All these reports are real-time & detailed.
Benefits
Improve Customer Relationships


Improve Customer Relationships

Opportunities for Automation

Opportunities for Automation



Manage Sales More Effectively

Manage Sales More Effectively



Better Customer Experience

Better Customer Experience


Frequently Asked Questions
Using a CRM streamlines the entire sales pipeline so your salespeople are able to close deals faster and with less effort. By automating many of the tasks that clutter daily workflow, agents have more time to engage with customers. And with all that data at their fingertips, your agents will know exactly what their customers want and when they're most likely to want it.
Regardless of its industry or size, SuiteCRM is ideal for every type of business, and the plays a vital role across all the departments of a company, not just in sales and marketing. From a business development perspective, SuiteCRM focuses on the acquisition, development, and retention of customers. Based on how the SuiteCRM is integrated with other business processes and departments, information can be shared freely across the business to better serve customers. The benefits to an organization for using SuiteCRM software can include increased sales, better employee productivity, improved profitability, reduced costs, and higher customer retention through improved customer service channels.
SuiteCRM solutions include functionalities that allow users to track customer and company interactions through various available channels. These channels include contact forms, emails, phone calls, and more. SuiteCRM software provides sales and marketing teams with a set of tools to manage the entire sales and marketing funnel, from lead qualification to opportunity management, forecasting, and deal closure. It enables customer service teams to manage customer requests and automate service operations by following pre-defined processes for customer care excellence. SuiteCRM systems are packed with tracking features that record numerous customer interactions online. In addition, CRM automates routine processes and provides managers with tools that allow for the tracking and measuring of the company's performance and productivity. For example, CRM software can remind you of tasks that you need to complete at a given time. You can make it perform pre-scheduled activities like sending emails and initiating phone calls. Everything done with the CRM is recorded, giving you enough time to make better action plans to close any potential sale. Some CRMs also offer analytics capabilities, allowing users to track the efficiency of various marketing efforts to generate leads and conversions. The table below illustrates some of the features that Creatio CRM products provide. Take a look at them to get a better understanding of how CRMs work.
We provide SuiteCRM solution to call center, which is help in improve business productivity and increase agent's efficiency.
Improved customer acquisition and retention
Increased sales volume
Improved customer service experience
Better inter-departmental efficiency
Reduced sales cycles
Better profitability and ROI
Performance improvement
Improved response times in customer service