Click To Call
Click to Call Save your Agent Calling time with an Easy and Simple Click to Dial Solution from Kingasterisk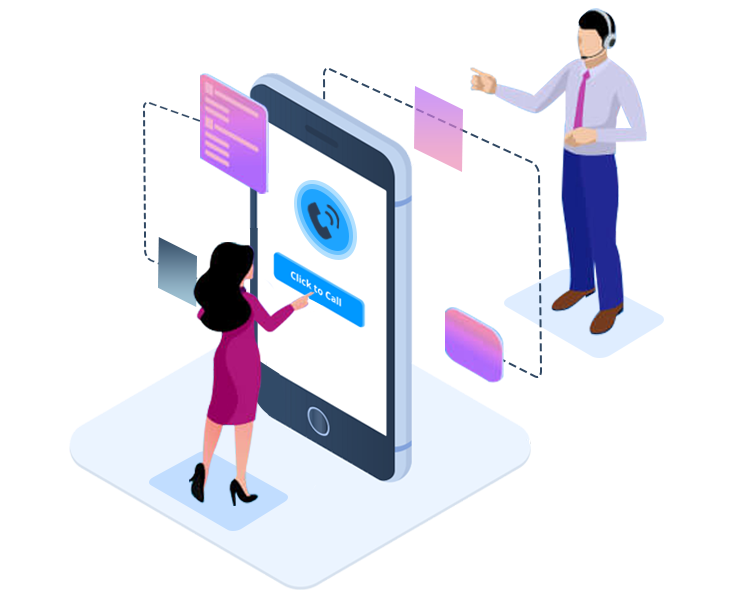 Click to Call is an advanced telephony solution feature. It lets you dial a customer's number by just clicking on the number, without the need of manually dialing. Kingasterisk's click to call solution adds to agents' productivity by saving their time to dial out customer numbers. This cuts manual tasks for Agents and leads to a dramatic improvement in agent productivity.
Features

Detailed Call Reporting
This feature lets you get definite continuous reports of the relative multitude of calls produced using your dashboard.

Call Tracking
Successfully track and screen all your client calls and the daily performance of your agents.

Call Recordings
You can keep a track of the agent's performance and the voice quality of calls by using call recordings.

Live to Monitor
With Kingasterisk's live panel, you can monitor all of your business calls in real-time.

No Missed Calls
No miss any call with click to call service.

Callback Scheduling
Do not keep customers waiting in long call queues. Instead, provide your customers with the flexibility to connect at their preferred time directly.

Call Routing
Call routing enables the available agents to answer the customer calls as the call routes to the free agents to reduce customer wait time.

CRM Integration
Get an overview of the customer's journey by integrating your service with CRM. Utilise this information to make a quick and informed business decision.
Benefits









Increase Efficiency & Engagement

Increase Efficiency & Engagement


Frequently Asked Questions
Click-to-call used in this cases,
Order & Product Renewal
Market Research
Financial Services
Political Campaigns
Customer Service
Advertising & Marketing Agencies
Educational Sector
Click to call works simply by dialing out the numbers without actually entering the numbers on the dialers. It simplifies the dialing process and reduces the turn around time to connect to a customer.
With no need to dial out the customer numbers everytime, call center agents can save measurable time by using click-to-call solution. This adds to their operational productivity.
We provide best click o call service to call center, which is help in improve business productivity and increase agent's efficiency.
Save time and increase productivity
Ensure easy and timely follow-ups
No missed any calls
Reliable solution for call center
24×7 technical live support