IVR Solution
Manage all your business calls seamlessly with our comprehensive IVR solution and improved customer experience through an IVR system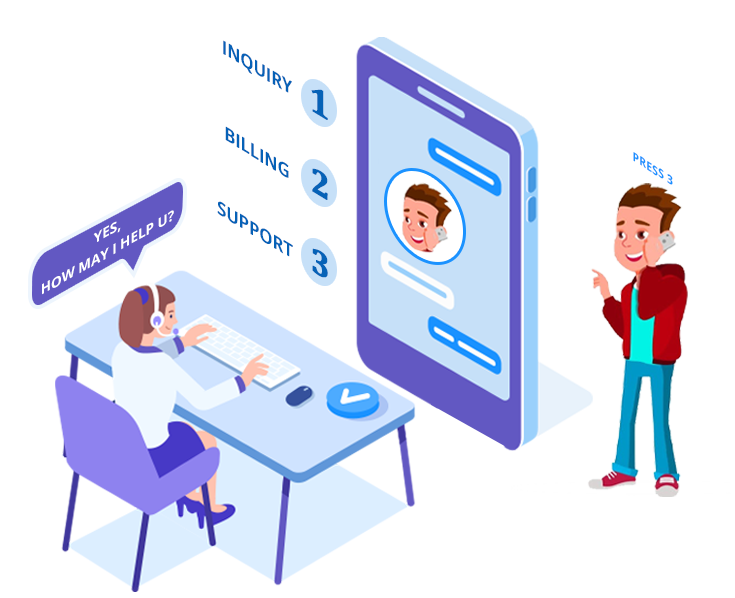 Interactive Voice Response (IVR) is an automated telephony system which responds to the human voice and keyboard inputs with pre-recorded voice messages. IVR systems automatically take the incoming calls. And depending upon the customer inputs, it routes the calls to the best-suited agent. It makes your customer care number available 24X7 where computer is always ready to greet your customers and transfer the call to you in your working hours.
Features

Multi-level IVR
Create multiple levels in your IVR and configure every level separately with intelligently-designed call flows.

Professional IVR Recording
Specialised & dedicated voice-over professional provides high-quality IVR recordings.

Intelligent Call Routing
Eliminate long call queues by intelligently routing every caller to the right department & agent.

Real Time Analytics
IVR solution powerful analytics engine helps you understand what is happening to your business calls in real time.

Customizable Menu
Customize the call flow with a menu categorized along with several sub-menu options to help your customers navigate their queries.

Easy Setup
Easy setup just in few minutes. Fully managed dashboard.

Call Reports
Get better call insights with daily, weekly, and monthly call analytics reports for data-driven business decisions.

24x7 Customer Support
Offer 24x7 uninterrupted support to your customers via record messages and provide instant query resolvement.
Benefits



Manage Large Call Volumes

Manage Large Call Volumes
Build a Professional Brand Image


Build a Professional Brand Image

Better Customer Experience

Better Customer Experience
Create a Personalized Experience


Create a Personalized Experience

Improve Your Team Productivity

Improve Your Team Productivity
Frequently Asked Questions
Many Industries are use of IVR system for 24 hours connected with their customers. Caller can quicky connect with the right agent through press key in our IVR system. Does not happen waste of customers's time and business get successful in provide customer satisfaction. So, it is proved very useful for improve your business.
The Caller Dials The Company's Or Brand's Toll-Free Number
A Pre-Recorded Message Welcomes the Caller
Sharing Data With The Caller
Investigate Agent Interactions
IVRs can be used effectively in start-ups, SMBs, enterprises and proprietorship businesses. Requiring minimal effort – IVRs are automated, which is why they require minimal effort in connecting to the right agent. Cost-effective – With lesser people and no infrastructure involved, the solution is highly cost-effective for small businesses. Time-saving – Instant classification of all calls helps save time for all forwarding or routing.
Businesses use an IVR number for improving customer experience, as an IVR number takes away the need for this and gives customers the opportunity to get through to whoever they need to on their first call.
We provide best IVR solution, which is help in improve business productivity.
Be available 24*7 for support
Easy to use
Quickly connected to the right agent
Provide customer satisfaction after office hour
Solve customer's any query without waste of time
24×7 technical live support