VOIP Billing Solution
We offer most powerful, secure, reliable and advanced billing reporting system, which help to you for manage your billing process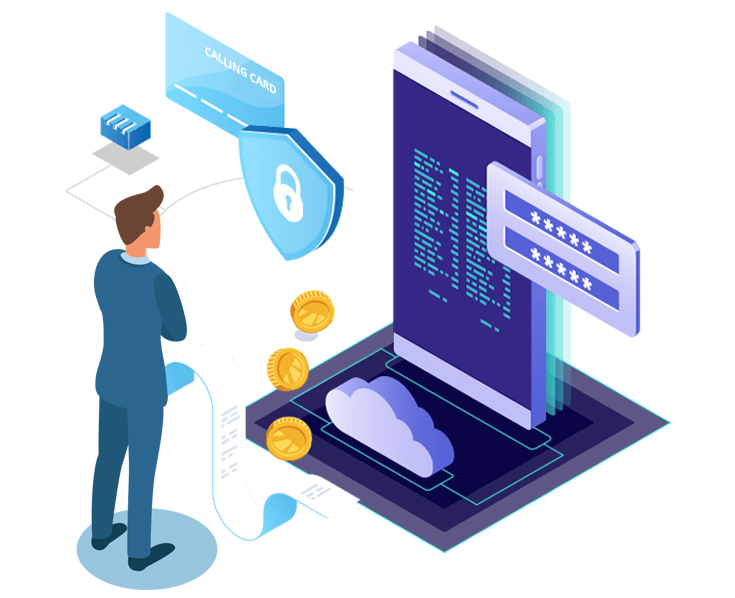 Kingasterisk's VoIP billing system helps in automated billing and collection, it helps in monitoring sales data and replicate the actual position of organization. It is an absolute financial accounting and able to knob large numbers of customers prepaid as well as post paid. We give you all the tools you need to bill VoIP calls, generate invoices and collect payments.
Features

Customer Management
Organizing your customers, resellers and providers are very effective and efficient with Kingasterisk Billing.

Multiple Payment Gateway
Recharge and Toping up account easily and quickly and real time balance reporting.

Real Time Billing
In Real time billing if customers balance is low calls will be stopped then and their balance will not in negative.

Rates Management
Rates handling and manage rates easily with Kingasterisk Billing system.

Invoicing
Auto Invoicing and receipts for postpaid and prepaid customers.

Call Reports
Generate real-time call reports in our billing system.

Credit Control & Collection
Controls usage and revenue by assigning different credit classes to different customers. Supports payment collection and applying them to invoices.

Multiple Currencies
Multiple currencies used in different countries can complicate the billing system as the billing and customer care system must be capable of recording and processing in units of multiple currencies.
Benefits






Automated Billing and Invoicing


Automated Billing and Invoicing


Frequently Asked Questions
VoIP Billing System is the perfect reaction for all the billing necessities. Kingasterisk, a famed VoIP Software Provider confers the ideal arrangements alongside prompt technical support that utilizes the best framework for giving services such as payment, expenses, rates and bills of calls.
There are many reason for use VOIP Billing solution,
Account management
Better pricing flexibility
Improved customer retention
Enhanced security
Support for multiple payment gateways
Subscription management
This is way a VoIP billing system can help your business,
Create Invoices from anywhere
Saves time from the long process of manual invoice generation
Send multiple invoices simultaneously
Access at any time
Track your expenses
Get your payments faster
We provide best voip billing solution, which help in handle all billing requirements.
Convenient for making limitless customers with the combination of prepaid and postpaid users
Oversee charging, payment and Report data
Collaborate and advance work management
We provide all the tools for handle billing needs
Quality-focused solution
Dedicated and expeditious technical support