Call Center Dialer Solution
Call Center Dialer Solution
Kingasterisk's Call Center Dialer improves call center productivity while engaging agents, and enhancing customer experience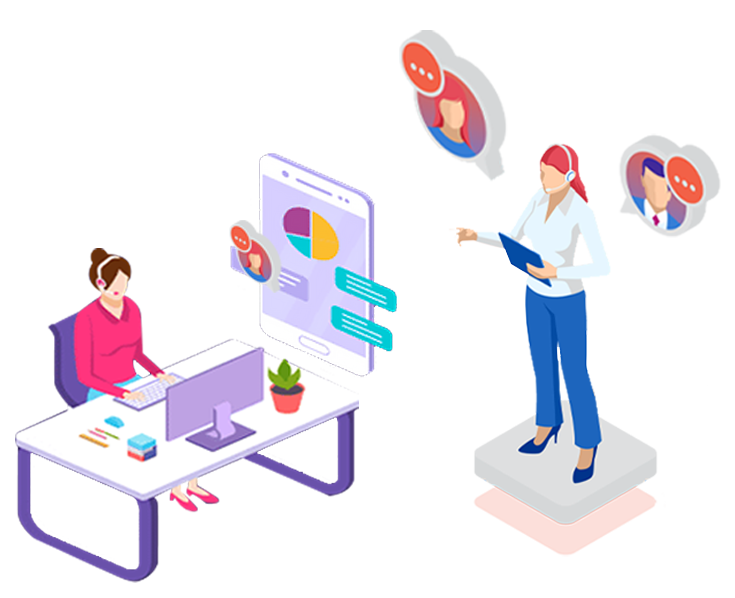 A call dialer is a software that automates the process of dialing numbers in call centers. Unlike manual dialing, it automatically dials the phone numbers pertaining to a selected list of contacts on behalf of the agents. We offer contact center dialer in different dialing modes like, Predictive Dialer, Auto Dialer, Preview Dialer and Progressive Dialer.
Features

Customized Dashboard
The interactive dashboard provided by the call center dialer software helps managers to monitor and review outbound campaigns continuously.

Press 1 Campaign
Dialers help businesses to collect customer response, conduct market research and carry out opinion polls by launching press 1 campaigns.

Multiple Campaigns
User can create multiple campaigns in our dialer and modified to its. You can run multiple campaigns at the same time.

Multiple Users Creation
You can create multiple users in our dialer solution and you can manage users, user stats, user status and time sheet.
DID Management
Our dialer solution give an option to create Inbound DID and you create and manage multiple DID numbers.

Real-Time Reporting
Generate real-time activity reports in dialer. With its generate inbound & outbound calling reports, agent's performance reports and time click reports.

Call Recording
The dialer software also record every outgoing call. The feature helps call centers to resolve customer disputes and meet compliance requirements.

Contact List Management
The dialing system makes it easier for users to import telephone numbers from databases or spreadsheets by providing a contact list uploader.
Benefits
Improved Operational Efficiency


Improved Operational Efficiency




Increased Agent Talk Time
Increased Agent Talk Time




Real-Time Monitoring and Reporting
Real-Time Monitoring and Reporting


Frequently Asked Questions
Call centers are use dialer in this cases,
Improve efficiency with self-service
Handle more queries from a single interface
Manage call center activities
Call center have more than 500 seats
For save time and cost
More lead generate
Call center dialers use a complicated algorithm to anticipate when an operator will be free to place another call. The call center dialer calculates exactly how frequent to start automatically dialing a new number to increase talk time between operators and customers. The system will frequent dial numbers when no sales agents are available, knowing that a human operator is likely to end a call immediately after another call starts. Interactive voice response is an autodialing technology that supplies interactive menus on automated outbound calls. For instance, a marketing company can autodial consumers and present them with an interactive poll they can answer with their telephone keypad.
Call center dialer is very helpfull for increase productivity. If call center have more than 500 seats, then its management very difficult. So, we provide dialer solution for that, which is help in manage to call center's all activity. We customize agent performance report of dialer as per client's requirement. Admin can analyse call center activities by report and know about agent's performance. Thus, improve efficiency of agents and automatically increase call center's productivity.
Kingasterisk provide call center dialer in more than 20 languages like, Hindi, Spanish, French, German, Portuguese, Chinese, Greek, Japanese, Russian, Indonesian, philippines, Italian…
We provide best dialer solution to call center, which is help in improve business productivity and increase agent's efficiency.
Customizable activity dashboard
Easy in install and configure
Integrated SuiteCRM with call center dialer
Reliable solution for call center
Customization of agent performance report as per client'e requirement
24×7 technical live support